John Kriskiewicz, Assoc. AIA
A native New Yorker, John holds a professional degree in Architecture from Pratt Institute. Over the past three decades he has taught courses focusing on architectural history and planning history at Parsons School of Design, The Cooper Union, Fashion Institute of Technology, Stern College for Women, and Manhattan College. John has designed tour programs and lectures for many of New York City's institutions and corporations. His exhibitions and articles have revealed history and preservation issues to a broad audience. John admits to a special affinity for New York's extensive infrastructure as well as its Mid-Century Modern heritage. Book John K for his Special Bridge & Infrastructure Tour
Arthur Platt, AIA
As a founding co-chair of the AIANY Architecture Tour program, Arthur regularly guides the Around Manhattan, Lower Manhattan and Freshkills Park Boat Tours. In 2012 he launched a Featured Guide Series to invite recognized NYC waterfront experts to share firsthand insights pertaining to infrastructure, ecology and post-Sandy resilient design. Through the AIA, Arthur also leads walking tours in Lower Manhattan exploring new buildings within Historic Districts. Arthur is a native New Yorker whose early professional experience at a number of NY firms fostered a deep interest in the City's built environment. In 1998 he co-founded Fink & Platt Architects, an award winning firm, that creates highly crafted spaces, integrating a sustainable approach to architecture, restoration, and interiors. The firm completed a renovation and addition for the Jewish Braille Institute, the master plan for Coney Island USA as well as numerous residential projects in NYC and the surrounding areas.
Doug Fox, Allied Professional, AIANY
Doug is a native New Yorker and a graduate of Vassar College with a B.A. in history. He is a licensed New York City tour guide who specializes in tours that feature the architecture and history of the city. Since 2012, when joining the Architecture Tour Committee, Doug has been conducting the AIANY Around Manhattan Boat Tours. Doug highlights not only the recent and classic architectural gems but also the many industrial artifacts and structures that are seen from the boats as we circumnavigate Manhattan. In addition, he conducts architecture tours of the 9/11 Memorial and World Trade Center for the AIANY Chapter walking tour program. Doug's Lower Manhattan walking tour focuses on changes in urban planning theories and practices from the mid-20th Century to the present that guided the development of the original Twin Towers and the new World Trade Center complex in starkly different directions.
John Shreve Arbuckle, Assoc. AIA
John guides the AIANY Around Manhattan Architecture Tour and developed the Around Manhattan Historic Architecture Tour. A licensed NYC Sightseeing Guide, he leads walking tours for the AIA, the Municipal Art Society and private clients. He is the President of DOCOMOMO New York/Tri-State, a local chapter of an international organization devoted to preserving Modern architecture. He co-chaired the AIA New York Chapter Historic Buildings Committee from 2011 until 2015. He was Director of Business Development at Gwathmey Siegel & Associates and Associate at Beckhard Richlan Szerbaty & Associates. A resident of New York City since 1990, John received a B.A. in Architecture from the University of California at Berkeley and studied real estate development at Columbia University. In 2016 the AIANY honored him with the Harry B. Rutkins Award in recognition of "his continuing work to raise the public's awareness of architecture."
Thomas Mellins, Allied Professional, AIANY
Thomas Mellins is an architectural historian, author, and exhibition curator. Mr. Mellins recently co-authored New York Rising: An Illustrated History from the Durst Collection, and is the co-author, with Robert A.M. Stern and others, of three volumes in a book series on the architecture and urbanism of New York City: New York 1880, New York 1960, and New York 1930, which was nominated for a National Book Award, and has written for the New York Times, Architectural Record, and other publications. In addition to lecturing extensively, he has served on design juries at the Columbia University Graduate School of Architecture, Planning and Preservation, and has taught at Parsons/The New School of Design and the New York School of Interior Design. In 1999 Mayor Rudolph Giuliani designated Mr. Mellins a Centennial Historian of New York City.
Mr. Mellins has organized exhibitions on a wide variety of architectural and cultural subjects, including most recently: "Gay Gatherings: Philip Johnson, David Whitney and the Modern Arts" for the National Trust for Preservation. Among the many exhibitions Mr. Mellins has curated for the Museum of the City of New York are "Affordable New York: A Housing Legacy," and "The American Style: Colonial Revival and the Modern Metropolis," for which he co-wrote a companion book. Mr. Mellins has curated numerous exhibitions for the Center for Architecture in New York, including: "Open to the Public: Civic Space Now," "The Edgeless School: Design for Learning," and "A Space Within: The National September 11 Memorial and Museum." Mr. Mellins co-curated "House & Home," a long-term exhibition at the National Building Museum, and was the curator of "The New York Public Library: Celebrating 100 Years," which attracted over 800,000 visitors to become the most heavily attended exhibition in the library's history.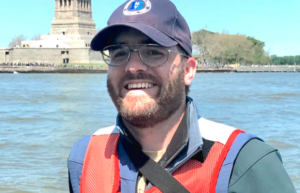 Andrew Gustafson, Allied Professional,AIANY
Andrew is a licensed New York City Sightseeing Guide, geographer, and museum professional who has extensive experience working with cultural and industrial sites along New York City's waterfront. Since 2009, Andrew and his team at Turnstile Tours & Studio—a tour company and consultancy that works with nonprofits, cultural organizations, and museums around the world—have developed and operated tours of the Brooklyn Navy Yard, Brooklyn Army Terminal, Brooklyn's Prospect Park, and New York City's Public Markets. During this time he has witnessed a remarkable transformation of the architecture and open space on New York's waterfront.
With his longstanding interest in architecture and deep knowledge of the city's built environment and history, Andrew joined the AIANY Architecture Tour team in 2022. He also brings special expertise about the city's industrial architecture, as well as its maritime, military, and labor history. His tours highlight the waterfront infrastructure that keeps the city working, and he is also very interested in public and social housing, examples of which are very prominent on the Around Manhattan Architecture Boat Tour.
Learn more about Private Architecture tours.
Learn more about Public Architecture tours.