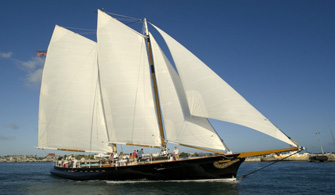 The Schooner America 2.0
This stunning, black-hulled, 105-foot sailing yacht is a tribute to the first Schooner America — winner of the first America's Cup in 1851. America 2.0 joined the fleet in 2011. An open deck features comfortable seating and bar service for up to 76. An open salon below features a full service galley and two marine restrooms.
Aboard America 2.0, the past meets the future both above deck and below deck. The "2.0" aspect of the vessel refers to the modern and eco-friendly nature of both her cutting-edge construction materials and her propulsion system.
In her 'engine room', there is a large battery bank system providing electric propulsion. Peel away her hull and rather than finding heavy fiberglass or steel, there is an extremely light and durable 3-layered composite: a sandwich of cedar over balsa core, laminated with an epoxy resin. Rather than a heavy wooden rig aloft, one finds carbon-fiber masts, booms and gaffs. Together, these strengthening and lightening components of construction, coupled with her modernized power-sourcing, America 2.0 is provided with the ability to move through the water more effortlessly, efficiently and with minimal environmental impact.
The Schooner America 2.0 operates in NYC May through October and in Key West, FL November through May. She is Coast Guard Certified for up to 85, however see recommended numbers for private events)