Press Release:
PRIDE 2023: New York Harbor PRIDE Sail for the Hetrick-Martin Institute
Sponsored by Classic Harbor Line
For the benefit of transgender, non-binary and gender non-conforming, and queer youth support programs of the
Hetrick-Martin Institute, Classic Harbor Line hosts a sail in New York Harbor on Saturday June 24, 10:30-12:30. 100% of net ticket sales goes to the Hetrick-Martin Institute.
A 400 square foot spinnaker cloth Pride Flag will be flown. The flag will be hoisted to the aft-leading edge of their mainsail as they glide from Chelsea Piers, south on the Hudson River to the Statue of Liberty and back. This Pride Flag is nearly half the size of schooner Adirondack's mainsail and will certainly prove to be an epic and awe-inspiring experience for all those who see it.
Founded in 1979, Hetrick-Martin Institute (HMI) is the nation's oldest and largest nonprofit organization serving LGBTQIA+ youth services organization that provides its youth members with access to mental health services, social services, basic needs such as toiletries and clothing, as well as remote and in-person programming services focused on education, workforce development and arts & culture. Today, HMI serves more than 2,000 at-risk youth each year between the ages of 13 and 24 from more than 300 zip codes in New York and throughout the tri-state area, and an additional 8,000 young people through outreach efforts. Through a comprehensive package of direct services and referrals focused on basic needs, mental health, and job readiness skills, HMI seeks to foster healthy youth development. HMI promotes excellence in the delivery of youth services and uses its expertise to create innovative programs that other organizations may use as models.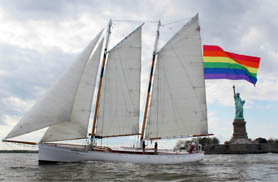 New York Harbor PRIDE Sail for the Hetrick-Martin Institute
Celebrate PRIDE with us and step aboard for an afternoon sail on one of our classic Schooners! 100% of net ticket sales goes to benefit transgender, non-binary, and gender non-conforming youth programs of the Hetrick-Martin Institute. So grab your friends, soak up the sun and sail with us through the waters we proudly call home.
Duration: 2 hrs
Boat: Adirondack OR America 2.0
Cost: Adult $125
CHECK OUT OUR VIDEO FROM WORLD PRIDE!