Join us aboard the Yacht Manhattan in her festive autumn decor and cruise with us north on the Hudson River, under the George Washington Bridge for a unique waterfront view of the Grand Palisades cliffs! This brand-new Fall Foliage tour takes a cozy boat ride to observe one of New York's most dramatic natural wonders, hosted by a local renowned urban naturalist.
You'll take a million year journey through how this park came to be, take in the historical and modern day significance of this waterway and learn about the wildlife and ecology of this area. Other iconic sights along the way include the Little Red Lighthouse, the Upper West Side of Manhattan, Riverside Cathedral and more!
This cruise is a great way to fully enjoy the Fall season. Take in the dramatic cliffs soaring over 500 feet above the water and foliage of the Hudson Valley during an afternoon of Hudson River sightseeing, and a geological and ecological examination of the waterside wonders of Palisades Interstate Park.
About Our Urban Naturalist Guides: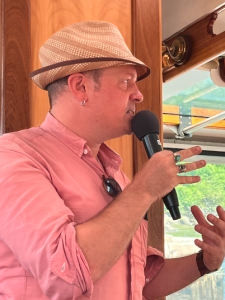 Gabriel Willow is a naturalist with a particular passion for birds and urban spaces. He is an environmental educator and ecological tour guide in NYC, where he regularly leads tours and teaches classes for NYC Audubon and Wave Hill. His tours focus on seeking out the overlooked and ignored elements of wildness hiding all around us, ranging from boat trips on the Hudson River, to kayaking on Newtown Creek, to seeking the elusive Peregrine Falcons nesting on skyscrapers near Wall Street. He has created programs for Lincoln Center, the Morgan Library and Museum, the NY Botanical Garden, and more. He is also an artist, illustrator, and DJ, and the former Vice-President of the Linnaean Society of NY.
Russell Jacobs is a writer and naturalist from Brooklyn, New York. He discovered the natural world exploring New York City's parks and shorelines as a child, and has led birding and environmental education programs for people of all ages and backgrounds with organizations such as NYC Audubon, RISE Rockaway, Hudson River Community Sailing, NYC Plover, and others. He loves to teach people of all ages about local birds, plants, marine life, and natural history. In addition to guiding tours, he has also worked on habitat restoration projects, ecological research, surveys, and other environmental initiatives throughout New York City and beyond. His writing on ecology and environmental history has been featured in publications such as Slate, Hell Gate, and Urban Omnibus.
______________________________________________________________
Grand Palisades Fall Foliage Cruise with an Urban Naturalist
Admire the Palisades of the Hudson River through the skylights of our ship's heated and enclosed observatory, or while catching the breeze on her bow. Observe New York's most dramatic natural wonders and foliage as the seasons change. This is a spectacular season for cruising the Hudson River, north of NYC, will be a true delight for you and your guests. **Narrated Tour – hosted by Urban Naturalist!** Enjoy an exciting narration of the geology and ecology of this epic waterway!
Duration: 2.25 hrs
Boat: Manhattan or Manhattan II
Cost: Adult $118 | Child $78